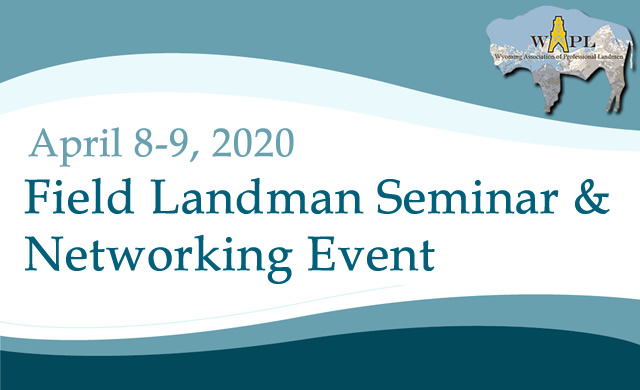 This event has been postponed due to COVID-19 - New Dates Will Be Announced When Known - WAPL is hosting a Field Landman Seminar in conjunction with the AAPL on April 9th in Cheyenne, WY.
Networking Event on April 8th from 5:30 - 8:00pm at the Red Lion in Cheyenne
Prior to the seminar on April 8th, WAPL will also be hosting a networking event at the Red Lion Hotel & Conference Center (204 W Fox Farm Rd, Cheyenne, WY 82007) in Cheyenne, WY. Cocktails and hors d'oeuvres included for WAPL Members. RSVP to Joseph Tessaro at: This email address is being protected from spambots. You need JavaScript enabled to view it..
April 9th Field Landman Seminar Details
Location: Little America Hotel Company, Cheyenne, WY (2800 W Lincolnway, Cheyenne, WY 82009)
Speakers: Cranford Newell, Mike Bingle-Davis, & Eric Thompson
The American Association of Professional Landmen invites you to attend a FREE Field Landman Seminar. The Trustees of the AAPL Educational Foundation initiated these events to provide a forum for field landmen to gather for education, networking, and good food, all at no cost to AAPL Active Members and $60.00 to Non-members attending. This program is designed for Field Landmen to have the opportunity to register to become a member of the AAPL.
Seminar Schedule:
8:00am - 9:00am - Registration and Continental Breakfast
9:00am - 9:50am - Crandford Newell - In House Landman's View of what a Field Landman Is/Does
9:00am - 9:50am - Break
10:00am -10:50am - Mike Bingle-Davis - Wyoming Geology
10:50am -11:00am - Break
11:00am -12:00pm - Eric Thompson - Secondary Recovery Units and Impacts on Leases
12:00pm - Adjourn
Accredited for 3 continuing education credits.
Learn more and register at: www.landman.org/education
Registration Costs:
AAPL Members: Free
Non Members: $60