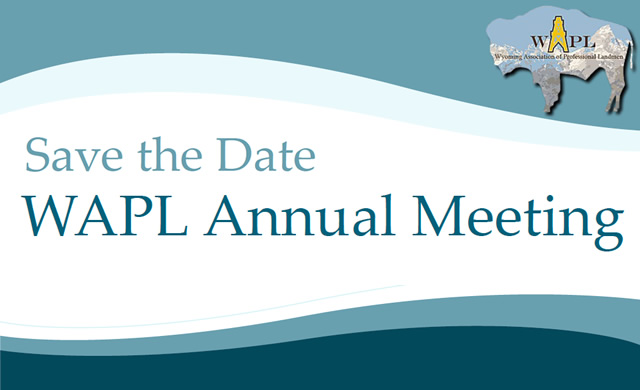 In place of an in-person Annual Meeting this year, we will hold a webinar on Friday, June 12th from 8:00-11:30 AM MST.
Continuing education credits through the AAPL will be offered. Thank you for your support of this event and your patience as we navigate this unprecedented situation. The session schedule and lineup is listed below, and the biographies of the presenters are attached.
Wyoming Probate Statuses and Their Impact on Title
Time: 8:30 AM MST
Duration: 30 Minutes
Speaker: Daniel Franklin, Managing Partner with Cowan, Hubbert & Franklin
What in the Federal Title is this?
Time: 9:00 AM MST
Duration: 120 minutes
Speaker: Tatyana Bannan, Oil and Gas Attorney with Hampton and Milligan PLLC
AAPL Ethics Videos
Time: 11:00 AM MST
Duration: 30 Minutes
Kindly RSVP to Tiffany Wilson at: This email address is being protected from spambots. You need JavaScript enabled to view it.. Registration will be limited to the first 100 registrants. Please stay tuned for more information and continue to check back for the latest updates.