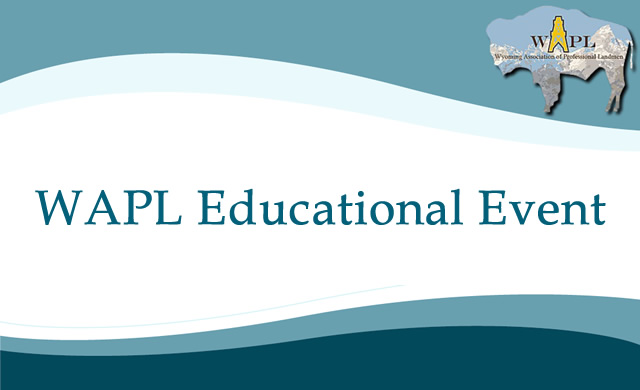 The WAPL Educational Event is sponsored by Beatty & Wozniak, P.C.

Registration includes lunch, continued education credits, and entry into the Networking Party on Thursday night at 6:30 pm at the Powder Horn Golf Clubhouse in Sheridan.
Event Information:
Thursday, August 3, 2023 – 8 am to 2:30 pm
Location:
Ramada Plaza by Wyndham Sheridan Hotel and Convention Center, Sheridan, WY 82801
Educational Credit:
Continuing Educational Hours
Schedule:
Introductory Remarks
J. Brooks Yates, CPL
AAPL President
President, Peregrine Petroleum Partners Ltd.

8:00 – 8:30 a.m.
Oil and Gas Agreements
J. David Chase, Chief Reservoir Management Group
Wyoming State Office
U.S. Bureau of Land Management
8:30 – 9:30 a.m.
BREAK
9:30 – 9:45 a.m.
Wyoming Oil and Gas Conservation Commission Chapter 3, Section 8(m) – Practice, Procedure, and Updates
Nicol Thompson Kramer, Shareholder
Beatty & Wozniak, P.C.
9:45 – 10:45 a.m.

Federal Lease Litigation
Pete Obermueller, President
Petroleum Association of Wyoming

10:45 – 11:45 a.m.
LUNCH BREAK
11:45 – 12:30 p.m.
Commingling and Metering on Federal Land
James Parrot, Shareholder
Beatty & Wozniak, P.C.
12:30 p.m. – 1:30 p.m.

Ethics in the Oil and Gas Industry: Issues and Overview
Jacob T. Haseman, Shareholder
Beatty & Wozniak, P.C.

1:30 – 2:30 p.m.
Get Tickets for the Networking Party on Thursday night or the Friday Night Banquet
If you want to register for the banquet or only want to attend the networking party without attending the educational event or golf tournament you may purchase individual tickets for those events online here: https://wylandman.com/index.php/wapl-networking-party-and-banquet-tickets
The networking party is sponsored by Crowley Fleck PLLP